New York, (21 September 2022) – Leaders of the High Level Panel for a Sustainable Ocean Economy met in person to discuss ocean-based climate solutions and the financial investments needed to support them. 
Leaders and representatives from the 17 'Ocean Panel' countries came together during the 77th United Nations General Assembly (UNGA) in New York. The meeting was co-chaired by Prime Minister of Norway, Jonas Gahr Støre and Prime Minister of Canada, Justin Trudeau.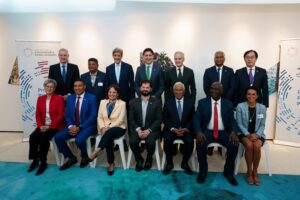 One of the most pressing issues at this year's UNGA is how countries can put the UN Sustainable Development Goals (SDGs) back on track in the context of global challenges like international conflict and COVID-19. While ocean action is vital to tackling climate change and helping to achieve all 17 SDGs, the ocean goal – SDG 14 – currently has the lowest level of financial investment.  
During the meeting, Ocean Panel members discussed the fundamental importance of ocean-based solutions in addressing the climate crisis and supporting economic recovery. They also acknowledged the need to rapidly scale availability and access to ocean finance to meet global ambitions for ocean action, and explored opportunities to mobilise and incentivise public and private sector investment to meet ambitions. 
The Ocean Panel also published its first ever progress report which tracks advances made by member countries against the ocean action agenda, Transformations. The report shows that Ocean Panel countries have committed to deliver almost 2/3 of actions identified in the agenda. Better still, commitments are being turned into action, with the majority either completed (54 per cent) or in well underway (40 per cent). The report also showcases the breadth of innovative examples of ocean action — from tackling marine pollution and combatting illegal fishing, to increasing efforts to protect and restore marine and coastal ecosystems and create systems for sustainable financing.  
While the Ocean Panel has made great strides in the transition towards a sustainable ocean economy, member countries recognise the need to place more focus on ocean finance and ocean equity initiatives. 
"The Ocean Panel Progress Report shows that we, the members, are taking important steps. But we are not done. SDG 14 – life below water – is still the least funded of all the SDGs. Norway will continue to push for ocean finance and a sustainable and equitable ocean economy." – Prime Minister of Norway, Jonas Gahr Støre 
Read more about the actions taken by Ocean Panel counties.